The Sanmar Group, with its corporate headquarters at Chennai, the capital city of Tamil Nadu state in south India, has set the benchmark for global partnerships in niche technology areas. The group has significant or majority holdings in all its businesses. These businesses are grouped and managed in industry segments as follows:

• Chemicals
• Speciality Chemicals
• Shipping
• Engineering
• Metals

Professionally Managed
Sanmar's businesses are professionally managed, thanks to the group's ability to attract, motivate and retain high calibre staff. Ownership and management have been separated through a series of top level initiatives, including the formation of a broadbased, empowered Group Corporate Board, which oversees all businesses, including strategies and policies. The businesses are managed by professional managing directors, with highly qualified managers working under them.

Group Strengths
The Sanmar Group has over three decades of experience in running and managing a large industrial organization with multiple businesses. The Group's innate strengths include:

• An ability to source, assimilate and apply complex technologies in different fields.
• Leading edge HR practices and a reputation as a preferred employer
• A high level of IT integration with an SAP ERP platform across businesses
• A global outlook highlighted by successful JVs with world leaders, and a high level of cross border trade

Blazing a trail
The group entered into its first international joint venture back in the 60s when it started Chemicals and Plastics India Limited to manufacture PVC resins in joint venture with B F Goodrich of the USA. Today, it has a turnover of over Rs.2629 crore and a presence in some 25 businesses, with manufacturing units spread over numerous locations in India.

Characterized by strong and conservative financial practices, it has a track record of steady growth and consistent profit making over the last three decades, enjoying an excellent reputation in the financial markets. The group is known for its high ethical standards and healthy respect for intellectual property rights.

CHEMICALS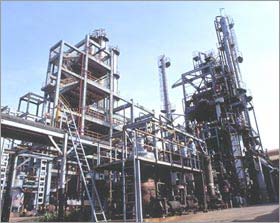 The company's main businesses are – PVC, Chlorochemicals and Piping Systems. The basic feedstock for its PVC plant, ethylene and chlorine, come from its industrial alcohol plant at Panruti and its own chloralkali facilities at Mettur and Karaikal.

The manufacturing facilities located at Ponneri near Chennai has a capacity of around 25,000 tonnes per annum of a wide variety of pipes such as pressure pipes, casing and screen pipes, SWR pipes, plumbing pipes and conduits. The piping systems are well-known in the market for high quality under the brand name "Trubore".

The Chlorochemicals Division of Chemplast manufactures a wide range of products using a highly integrated manufacturing process. These downstream products are either chlorine derivatives or chlorine users in the production process.

The salt needed for chlorine manufacture is supplied by Chemplast's own salt fields at Vedaranyam.

The electrolysis process of manufacturing chlorine, is power-intensive, but Chemplast is fully equipped to generate sufficient captive power to meet its entire requirements.

Chemplast's product range falls into six distinct groups — PVC Resins, Caustic Soda / Chlorine, Chlorinated Solvents, Refrigerant Gases, Silicon Wafers and Trubore Piping Systems. The manufacturing facilities are located at Mettur, Panruti and Ponneri in Tamil Nadu and Karaikal in the Union Territory of Pondicherry.

SPECIALITY CHEMICALS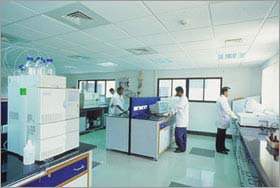 Sanmar Speciality Chemicals Limited (SSCL) manufactures a wide range of speciality chemicals, and offers contract research services, in separate focused divisions.

Performance Chemicals located at Berigai, near Hosur in Tamil Nadu, this unit manufactures chemicals for flavours and fragrances, resins, polymers and elastomers and intermediates for pharmaceuticals. The business also has expertise in manufacturing complex phytochemicals which are supplied to pharmaceutical customers in Europe and the United States of America.

Intec Polymers located at the Union teritory of Dadra, has numerous product lines in organic titanates, polyvinyl formal and polyisocyanates.

ProCitius Research with its state-of-the-art facilities, offers world class services in contract research and custom synthesis. It has an impressive track record with major pharmaceutical and chemical manufacturers in Europe and the United States of America.

Bangalore Genei located in Bangalore manufactures enzymes and related reagents for genetic engineering research and makes teaching kits for molecular biology and immunology.