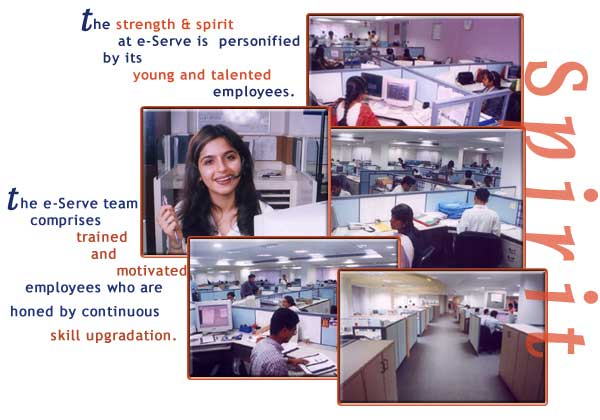 The Company


e-Serve International Ltd., formerly known as Citicorp Securities & Investments Ltd., is an established provider of IT-enabled services. Having begun this activity in 1992, e-Serve focuses on providing sophisticated IT-enabled solutions to the Financial Services industry, supported by cutting-edge technology and robust infrastructure. E-Serve provides a spectrum of solutions across Banks, Insurance, Financial Portals & Mutual Funds.
e-Serve is recognized as a leader in IT-enabled financial information processing services. At e-Serve, commitment to Technology and Quality anchors its operations that encompass the entire gamut of banking and financial products. e-Serve's clientele is global and Citigroup entities from several countries feature prominently in this list. With a base of over 4000 employees spread over 8 locations in India, e-Serve offers scalable services that meet the volume-intensive processing and customer care needs of its clients located in over 25 countries across Asia, Europe, Africa, North America and South Asia. Each year, e-Serve processes over 100 million transactions of varying nature and complexity and its Call Centers handle over 20 million customer interactions.



Product Suite


e-Serve has evolved a comprehensive product suite that simplifies even the most complex outsourcing decisions. The company's core competence lies in applying state-of-the-art Imaging, Work-flow & Call Center technologies to service the entire entire gamut of its clients financial information processing requirements.
Today, e-Serve's sophisticated Business Process Outsourcing Solutions drive some of the world's most successful financial services companies.

Transaction Processing


These are part of the solutions that drive the business critical functions of large financial companies. e-Serve processes over 100 million transactions annually, across a range of products in the financial services industry. Some of the products that we process are:
Cash Management & Account Services

Funds Transfers
Trade Services
Custodial Services
Foreign Exchange / Money Markets
Loans / Asset Products
Cards Processing
Insurance Policy & Claims Administration

Customer Care


With its Customer Care and Call-Centers in India, e-Serve provides a wide range of solutions to meet the rigorous demands of Corporate & Retail clients. e-Serve Customer Care Centers manage over 20 million customer interactions annually across a spectrum of communication channels including Telephone, VoIP, Chat, and email among others. Our Customer Care / Call Center offerings include:


Tele-marketing
Origination Support
Customer Service
Collections

Web-based Interactions


EServe offers a range of flexible and scalable technology services to meet the dynamic needs of the e-enabled financial services industry. Our offerings include:


Software Verification and Validation
Data Center Management
Technical Helpdesks
Content Management
User Interface Management
Advantage e-Serve


e-Serve delivers excellence across the spectrum of its businesses.
Our People are chosen not only for their domain skills and 'can-do' attitude, but also for their drive to succeed.
Our Relationships with clients are based on consistent Quality delivery and innovative approach to meet our clients' evolving business needs.
Our Solutions are designed to achieve a strategic fit with our clients' business, by use of effective delivery models.
Quality is a passion at e-Serve, and all our key business processes are ISO 9001:2000 certified.



Capabilities


EServe Care - At e-Serve, close partnerships with clients are the key to sustained process improvements and effectiveness. Strong relationships are carefully nurtured through rigorous MIS, continuous feedback and shared mindset.
Strong Quality and Control Culture - e-Serve is committed to client satisfaction through accurate and timely fulfillment of customer needs. Robust procedures have been designed for maintaining strict control over all business processes and to ensure compliance with financial services industry standards.
Dynamic Process Management - e-Serve employs process-management tools to enable real time monitoring, productivity tracking and load balancing.. e-Serve's process management includes provision of complete contingency solutions to allow Continuity-of-Business based on clients' requirements.
Global Reach - e-Serve has real-time information network that manages even the most complex client requirements and geographically scattered process components. This capability enables e-Serve to process transactions that originate from locations across the globe.
Robust Migration Methodology - e-Serve's approach to migration is based on its knowledge & experience gained over 50 migrations. Eserve uses the robust '5-D Migration Methodology' for migrating processes from locations across the globe. This, along with other Migration Management tools, ensures that clients' needs are met during the change management process.
Strategic Cost Management - e-Serve's teamwork with its customers extends into the realm of strategic cost management (SCM). SCM in partnership with customers has enabled e-Serve to achieve significant reduction in costs for its customers.



Resources


Technology - At e-Serve, technology is at the forefront of business. State-of-the-art hardware, software, database systems and telecommunications links enable the delivery of efficient and accurate solutions. Our e-CRM & Call Centers, enabled with cutting edge capabilities, provide the finest in Customer Care solutions.
Human Resources - The strength & spirit at e-Serve is personified by its talented employees. 'Team e-Serve' consists of trained & motivated employees, who are honed by continuous skill upgradation. A friendly informal atmosphere, task ownership and empowerment, enable even the youngest of employees to contribute towards converting the most arduous activities into smooth, efficient and robust processes.
Physical Infrastructure - e-Serve has over 150,000 sq. feet of facilities in India., built to international realty standards. This includes, interior layouts designed to promote efficient processing, cutting-edge technology & telecommunications infrastructure, stringent access control, fully backed up power and modern fire safety equipment.
Knowledge Bank - e-Serve offers an experience of over a million person days and learnings acquired through over 600 million transactions. This knowledge bank is carefully preserved and employed to benefit every e-Serve customer.