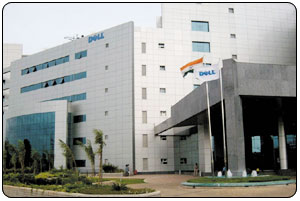 Photo of DIS 4 at Bangalore
Click here to register for Hiring Event of Dell India R&D Center, Bangalore

Headquartered in Round Rock - Texas, Dell is a trusted and diversified information-technology supplier and partner, and sells a comprehensive portfolio of products and services directly to customers worldwide. Dell, recognized by Fortune magazine as America's most admired company and No. 3 globally*, designs, builds and delivers innovative, tailored systems that provide customers with exceptional value. Dell's remarkable climb to market leadership is the result of a persistent focus on delivering the best possible customer experience.

Revenue for the past four quarters totaled $49.2 billion*. The company manufactures its computer systems at six locations: Central Texas and Middle Tennessee in the United States: Eldorado do Sul, Brazil; Limerick, Ireland; Penang, Malaysia; and Xiamen, China. Dell sells its products and services worldwide. Dell was founded in 1984 by Michael Dell, the computer industry's longest-tenured chief executive officer and currently, the company's chairman, on a simple concept: a direct model. Dell's Direct Model is built on the principle that by selling computer systems directly to customers, Dell could best understand their needs and efficiently provide the most effective computing solutions to meet those needs.
From 1996 to present day, Dell's investment in India and its growth there depict a well-planned globalization strategy that started in 1987 with a subsidiary in the United Kingdom. As part of this globalization strategy, Dell established a sales & marketing office in Bangalore in 1996, and its first India customer contact centre in Bangalore in May 2001 followed by a similar centre in Hyderabad in 2003. The success of these facilities encouraged Dell to expand to Mohali as part of an ongoing commitment to India. This facility was inaugurated on 21 March 2005. These three contact centres are part of a global network of approximately 50 centres Dell operates around the world.
The customer contact center at Bangalore has transitioned into a premier operation for Dell. A global Product Group focuses on the enterprise range of products including servers and storage solutions. Multiple teams are responsible for software products, storage testing and enterprise system test. In addition, a Global Software Development Center was established as a strategic unit of the Dell Information Technology department. This team provides application planning, design, development and testing services with all business segments such as sales and marketing, worldwide operations, and corporate systems. A sales and service operation supports Dell customers around the world. The center at Hyderabad, like Bangalore, offers multiple services to various business segments, including but not limited to sales, customer care, technical support, e-mail support and shared services.